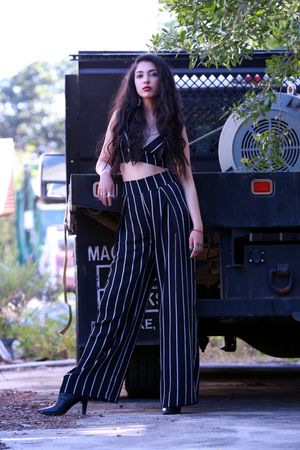 Indie/Alternative Pop Artist Sonali has been steadily working to take the music scene by storm with her ethereal, hooky blend of rock and synth pop. After being forced into a two year hiatus due to Lyme Disease, Sonali has come back stronger than ever and hit the ground running. Splitting most of her time between South Florida and NYC, Sonali has just finished a tour with Hollister and High School Nation, shared a bill with Nick Jonas and Zedd, and opened for the headliner, Pitbull, at Florida's acclaimed SunFest Music Festival. In addition to gracing the cover of South Florida's major publication Lifestyle Magazine, Sonali was also the subject of a documentary that aired on JUS Broadcasting, which highlighted her career and journey with Lyme. These notable accomplishments led her to become the 2019 Recipient of the Cultural Ambassador Award, presented by Miss Universe Sushmita Sen in California. 
Studying and making music ever since she was a young girl, Sonali's biggest plunge into the music world came when she was invited to attend the prestigious Clive Davis Institute of Recorded Music at New York University's Tisch School of the Arts. There, she was afforded the pleasure of working with some of the best in the industry, studying under numerous GRAMMY award-winning professors and music industry veterans such as Questlove, Bob Power (D'Angelo, A Tribe Called Quest), Nick Sansano (Sonic Youth, Public Enemy), and Amund Björklund (Train). While there, she would also attend guest lectures by Pharrell, Benny Blanco, Rob Thomas, and Stargate. 
Just as Sonali graduated from NYU and was about to embark on her first tour, she was diagnosed with Chronic Lyme Disease. Instead of spending the next few years on the road and recording as she had planned, she was forced to devote most of her time to recovering and getting back on her feet. As much of a setback as it was, the unintentional break did allow her the time to be introspective and reconsider her career and sound. While at NYU, Sonali learned a great deal about music production, which had opened her eyes to the world of electronic music. Trading in the acoustic guitar for synths and drum machines, Sonali released her follow-up EP Runaway in summer 2019 with producers Eren Cannata and KOIL PreAmple.  
Through this new sound, Sonali hopes to use her platform to help give another voice to Indian-Americans in the entertainment industry. "My family is from India and that's been a huge part of my upbringing," Sonali shares. "Growing up, I never had anyone on screen or in music that I could look up to in that sense, and I don't want that to be the case for kids today. Indians are finally starting to get a voice in the TV and Film world, and it's about time that spills over into the music industry!"  
With a new sound and reenergized passion, Sonali is ready to pick up where she left off. 
Manager: Amit Nerurkar (face-less)                                                                                                                                  Contact: management@itsmesonali.com